Buddy Allen Carpet One Floor & Home offers a wide selection of Carpet, Hardwood, Laminate, Vinyl, Tile, Stone, and Waterproof Flooring at competitive prices. Our certified flooring consultants and designers are trained and ready to help you select the perfect floor for your project, and our CFI Certified installers are ready to install your products and give you the beautiful finished flooring project that you wanted. From tiled bathroom and shower remodels to a whole house of hardwood, laminate, or waterproof flooring, Buddy Allen Carpet One Floor & Home can take care of any project that you have with our one-stop shop for product and flooring installation. We back all that with our exclusive Beautiful Guarantee®, which promises that if you don't love your new floor, we'll replace it for free!
Planning to shop with us? See a preview of your visit with our showroom gallery.
Our Story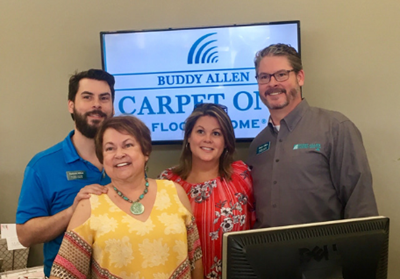 In 1964, Buddy Allen opened his flooring store in Donelson (now Nashville), Tennessee. Buddy had but one philosophy, and that was honesty was not the best policy, it was the only policy. In 1976, Gary Allen took over the reins of the company and expanded to cover all types of flooring, including carpet, linoleum, hardwood, and tile. Gary took the company to the next level by joining Carpet One Floor & Home in 1989. This provided our small, family-owned business the opportunity to have the buying power of the biggest stores in the country and provide warranties and services not available to most small flooring businesses, including a Lifetime Installation Warranty.
Gary stuck with his father's philosophy of being an honest and trusted source for flooring in the Nashville and Middle Tennessee area all the way until his retirement in 2012. Zack Allen took over from his father, Gary Allen, in 2012, and has since set out to make sure that Buddy Allen Carpet One Floor & Home continues to lead the local flooring industry in products, innovation, and services. Our team is still serving the Nashville and surrounding areas like Mt. Juliet, Hendersonville, Old Hickory, Hermitage, Brentwood, Franklin, Gallatin, Lebanon, and many more Middle Tennessee areas. Zack believes in continued training and certifications for both the flooring consultants as well as the installers. We believe that a one-stop shop doesn't mean a more expensive project. We know our clients time is important, and we want to make the process as easy and convenient as it can be, as well as budget friendly. Zack continues to believe in the honest and trustworthy philosophy of his father and grandfather, with the belief that it is a privilege for our clients to invite us in to make their homes or businesses attractive, welcoming, and the place of their dreams.
We Are Your Neighbors
The Allen family, Zack and his brother Judson, and his sister Jenna all work in the business now. They have all grown up and continue to live in your communities. Zack in Mt Juliet, Jenna in Lebanon, and Judson in Nashville. We take care of all our customers in-house, and we want you to be happy and proud of the products and services you purchase from Buddy Allen Carpet One Floor & Home. We love being part of this community. We are Predators and Titans fans, we are music fans and we love having grown up in the Nashville area. We are also proud to be a part of many charities, including the Tunnel to Towers Foundation. Tunnel To Towers Foundation builds smart homes for catastrophically injured war heroes so that they may live a great quality of life in a home that works for them. As of 2022, we have raised over $200,000 for this organization. We are proud of these heroes and will continue to support through our annual Buddy Allen Tunnel to Towers Foundation Golf Tournament and other events. We also support the local Kiwanis Club in Mt. Juliet, Dreams and Wishes of TN, as well as many other local charities.
Areas Served
Nashville, TN | Hermitage, TN | Old Hickory, TN | Mt Juliet, TN | Hendersonville, TN| Gallatin, TN | Lebanon, TN | Donelson, TN | Brentwood, TN | Franklin, TN | Madison, TN | Goodlettsville, TN | Antioch, TN | East Nashville, TN | Berry Hill, TN