Floor Cleaning Myths
The chemical cleaner manufacturers, through the use of effective advertising, have fostered the floor cleaning myth. "What myth?" you ask. Well, I encourage you to try an experiment to uncover the myth for yourself. Try a Google search for one of the following phrases: "cleaning hardwood floors," "how to clean vinyl floors," "caring for laminate floors," or ANY phrase asking how to clean your floors. You will be bombarded with paid ads and articles selling all types of cleaners. Products that shine, products that smell great, and even products that steam your floors clean. The reality is none of these are recommended by your floor manufacturer and often use of these methods can void the warranty for your hard surface floor. Even more important than a voided warranty is your discontent with the cloudy appearance and perceived lack of durability of your hard surface floor.
How do products that are touted as great cleaners cause such a mess?
Well, there isn't just one answer to that question. Actually, there are four: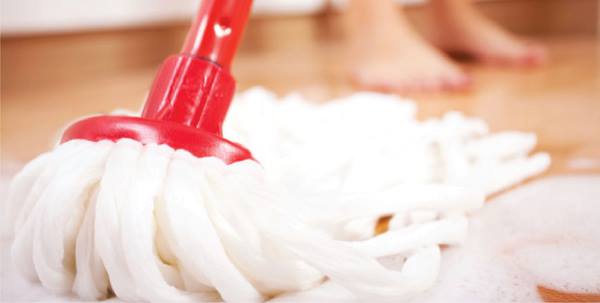 1. Some "Cleaners" Contain Detergent

The first, and biggest is that many of these products contain detergent. Those greasy, oily, and sticky detergents are the culprit. To better understand what I mean, take some liquid laundry detergent and put a drop or two on your hand, rub it in and then wipe it off with a towel. The leftover residue that you feel is what's left on your floor every time you use a product that contains a detergent. That sticky residue builds up each time you use it, and along the way it collects dirt and grime that builds up and bonds to the floor. This can create the perception that your floor is not performing and is hard to clean. It's a vicious cycle. The more you clean, the dirtier your floor becomes.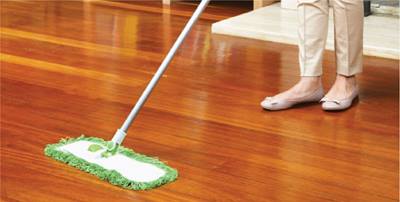 2. Shiny Often Means Sticky

Your flooring was built with the level of shine that it was meant to have, and there is no aftermarket items that can change that in a good way. Products that "shine" a floor are very bad due to the amount of silicone, and other chemicals, many of them contain. Silicone is considered part of the rubber family, but it is truly a hybrid product between synthetic rubber and a synthetic plastic polymer. Silicone forms a durable bond with the surface it is applied, and actually glues dirt and detergent residue to the floor surface. Silicone, along with other detergents creates a myriad of headaches due to the greasy look that continues to gets worse with each use, and thus answer number two.
3. Steam Cleaners Can Damage Floors

In response to a call for a better way, new "steam cleaning" machines have been developed to combat this issue. These "miracle cleaners" have been advertised as the solution to the buildup problem for any hard floor surface, even hardwood floors. Steam cleaners are the second answer to our question. Unfortunately, the damage that steam does to hardwood floors is dramatic and costly! It causes cupping, face splitting, finish peeling, and discoloration of hardwoods. Wood and water do not mix. They never have and never will. Turning water into steam is still water only worse, because steam is more effective in penetrating the wood grains.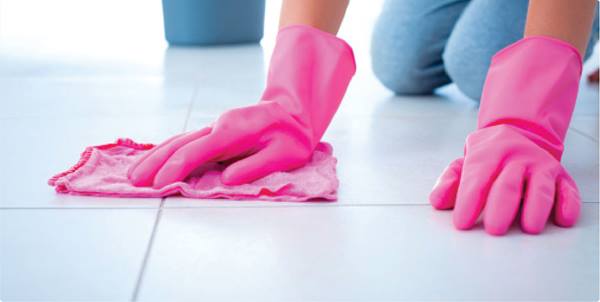 4. Oil Soaps Can Cause Buildup Over Time

Okay, so we now know we want to avoid detergent, steam cleaners and floor polish. What about oil soaps? Those are supposed to be awesome for hard surfaces right? Not really, oil soaps, answer number four, and have actually outlived their original design. You will never be happy when you apply a product that is a type of "oil soap" to your polyurethane and aluminum oxide floors. Oil soaps have been around for years and consumers have been taught that they are adequate to care for wood. At the time they were developed, they did a great job. The problem is that the hardwood floors of today are different from those of the past. Polyurethane is essentially a plastic coating on hardwoods and other surfaces. The oils in "oil soaps" do nothing to clean or shine the surface of polyurethane and other synthetic floors. What essentially happens is a buildup of this oil, which causes the same problems as mentioned above; grime build up, haziness, milky messy appearance. Today's hardwoods are much easier to care for and do not require the labor intensive use of oil soaps, and again, they will cause extensive damage to your floors decorative surface.
There are hardwoods on the market that are true oil finished floors. You can see our Montage Collection on our showroom floor. A truly stunning collection of hardwood.
So what's the best way to clean your floors?
By now you are probably wondering if there is any way to clean your floors correctly. Well, you can relax beacuse the hardwoods, tiles and resilient flooring products that we sell today are very easy to clean. In fact, our vinyl and luxury vinyl tile (LVT) floors do not even require mixing up a mop bucket. Our hardwoods require no soaps, vinegar or shining products. Today, a simple spray and wipe with our Resista line of cleaners will properly clean your floor, protect your investment and allows the beauty of your floor to last for years to come. Resista cleaners are floor care products made by flooring manufacturers' specifically designed to ensure the longevity and satisfaction of your flooring.
We know that in today's world of convenience, it is tempting to just grab something at the grocery store to clean your floors with. We understand that our store may not always be a convenient stop along your normal route. We believe strongly in proper care for all flooring, and so we will gladly provide free shipping on all gallons of our Resista line of cleaners. Simply give us a call at (615) 883-3289 or stop by our showroom today and our flooring experts will help you determine what cleaning product is best for your flooring—we're always happy to help.
Click to download your free Floor Care Guide featuring the Resista line of Floor Care Products >
Remember, your floor covering is one of the biggest investments and the most used part of your home. Care for it correctly and it will provide years of satisfaction. Improper maintenance leads to more dissatisfaction in floor covering consumers than any other factor.
Happy Cleaning!
Zack Allen, President
Buddy Allen Carpet One Floor & Home
Zack@BuddyAllenCarpetOne.com